🔆CLOCKED OUT + READY FOR GOOD TIME!🔆
May 25, 2022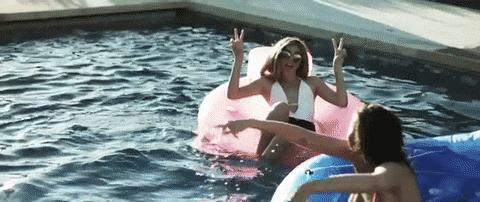 You just taught through a pandemic, how are you livin' it up this summer?!
Whether you're...
soakin' it up
netflixin' it up
drinkin' it up
partyin' it up
travelin' it up
or
nappin' it up
...whatever you wanna do, is exactly what you should do! You deserve every ounce of fun, happiness, rest, and enjoyment that you desire!
No matter what your plans look like, my motto for you is make every day a good time.
Lock up the lesson planner, mute the emails, and reunite with that RADIANT human that you are!
Read on for my favorite summer secrets when it comes to fashion, outdoor toys, accessories, mood-boosters, + more so that you can effortlessly infuse more GOOD TIMES erryday🎉🎉🎉
MOOD-BOOSTERS - little things that just add a vibe
I often get asked how I make those 'gram-worthy' hot pink drinks! It's the simplest concoction everrr. And it's good for you, too. #WINWIN
Recipe: Water + Pink Pitaya Powder
There's no flavor in the pitaya powder but because it's loaded with superfoods and an aesthetically pleasing color, your health & mood will thank you :) When I want to add flavor + more hydration, I squeeze lemon, lime, or a Liquid IV or Organifi product!
Don't knock it 'til ya try it is what I have to say about these adorbs golden [temporary] tats!
We put these on for one of my BFFs bachelorette parties a few years ago and it just sprinkled a little more fun in the day ✨✨✨
(photo from WhyDontYouMakeMe)
Hot Teacher Summer Playlist
Wanna know my secret to the quickest, cheapest and, in my opinion, the 'funnest' way to raise the vibes? PARTY PLAYLISTS! 😎For all the teachers ready to celebrate the heck outta their last day of school or while they floatin' in a pool, I gotchu!
Who knew something like ice cubes could be transformed into something so damn fun?
Check out these adorable palm tree molds, only $10 on Amazon! (I also used them to make jell-o shots and gummy multi-vitamins last summer, versatility baby!)
<--- I squeezed a fresh lime in these ones before I froze them (adds another layer of delish)
Homemade popsicles are another fun way to cool down and elevate the mood this summer. I got mine from Amazon for 9 bucks!
Recipe I posted last summer. So easy! Organifi is optional.
Positive self-talk is a must every single day in order to feel your best. Why not help yourself by placing reminders around your home? Affirmations are your way of saying ' I choose to be happy' every single day. That's why I consider them the ultimate mood-booster!
Last summer I bought a label maker and went around our home sticking affirmations all over the place. This year, I write them on sticky notes and stick them on the bathroom mirror. All you need are sticky notes and something you want to affirm. Simple self-love.
I found these Mirror Mantras last night. I don't personally use them but I think they're amazing!
SUMMER TOYS
DRINK FLOATIES FOR THE WIN!
Bath tub, hot tub, pool, lake, ocean, whatever!
Have a pool? A lakehouse? Going on vaca near a body of water? FUNBOY has you covered. I'm a sucker for a trendy boujee-kinda pool accessories! Their products are on the pricier side, so I warn you that now before you enter.
The FUNBOY floats in our home are still going strong after 3 years. If you're in the market for some new pool toys, the quality and their showstopper aesthetic won't let you down!
If you don't own a pool but need something to cool off with this summer they also sell kiddie pools! (that actually fit adults!), floating drink stations and inflatable coolers!
I just purchased these beach balls, today!
Whether it's your backyard, the beach, or your next pool party, bring along a little glitter wherever you go with these pretty lil thangs.
SUMMER STYLES
Wearing the SHEKINI Strappy Two Piece here!
Look cute, be comfy, and avoid breaking the bank with these Amazon swimwear finds!
For anyone looking for more ethical swimwear, here are some favs:
Love me a comfy pair of joggers. Gimme a slightly oversized pair post shower after a long day in the sun and the AC pumpin. Currently, my favorite pair are from DIBAOLONG! If you're a Lulu fan but ballin' on a teacher budget, check out their We Made Too Much
I love my Raybans but I will say I think they're overrated and overpriced. I found this pair on Amazon and can not tell a difference other than the comfort level (my Amazon ones are much more comfortable) and the extreme price difference.
Quality/comfort > labels!
And only for $16.99, can't beat it!
Photo is from James Michelle
I'm a sucker for anything gold and beachy. I'm going to live on an island one day. But until then, I bring the beachyness to me. I just bought this Wave Ring from James Michelle and it's my favorite summer glitz right now. Everytime I look at it I smile. It's the little things :)
Pura Vida also has a Wave Ring for half the price! Still cute as ever. ($14)
This Little Words Project beauty reminds me everyday to celebrate the little things. It's a way of keeping me in a state of gratitude each day too. When I look at the bracelet I automatically think of something to "celebrate" and it's always something that I am feeling happy and thankful for.
Check out their site for tons of words to choose from. You can also customize your own! That's what I did <3
PS: They donated a bracelet for a giveaway via IG, so stay tuned!!
Glowy Sun-kissed Skin Secrets
Can't live without these two!
If you've been following me on IG you've probably seen these two leading latherers on my story once or twice.
Chrysalis Water (spray all over bod) and Coconut oil (lather all over face and bod) My favorite coco oil is Conscious Coconut but I also use this one from Costco!
For me, there is nothing more satisfying after a day in the sun than showering then misting Chrysalis Water and putting on coco oil. The most soothing skin routine ever.
Maracuja oil is another secret to creating and sustaining dewy skin all summer long. It's super affordable, super clean, and super effective which is why I love it.
Looking to splurge on clean sunkissed skin? ILIA is your one-stop shop.
These are my two all-stars!
My other summer skincare secrets:
DEFEND: COOLA
NOURISH: Cocokind Skin Butter ($15)
MOISTURE: Cocokind All-over Matcha Stick ($9)
BALANCE: Cocokind Rosewater ($9-$17)
BRIGHTENING: Pearl Daily Skin Mask (5 pck $17)
Speaking of glowy skin...here's how to make staying hydrated fun + EASY!
"Water is so boring that's why I don't drink as much as I should." How many of you have been there?🙋‍♀️
There's so many boring things we have the power to "de-bore" (is that a word?) and water is one of those things!
Here's what you can add:
-fresh squeezed lemons and/or limes
- add a few drops of peppermint oil to iced water (sooo heavenly on a hot day) Make sure it's pep oil that you can ingest, always do your homework! I use Doterra but here are some that I found that might be a little more cost effective that I will probably transition to once I run out of my current bottle!
- add Organifi (Pure, Glow, and Red Juice are absolutely delicious + loads of nutrients!) Use code SPENCER for a discount.
- fresh mint and/or cucumber (don't forget the ice with these ones!)
-lemon or lime Spindrift
WINE + COFFEE LOVERS UNITE
I have yet to meet a teacher who doesn't love one of the two, but in the event that you aren't a wine or coffee fan, send this section to a BFF who is (because I know you all have one!)
My secret for the perfect morning froth? HAND FROTHER
Why do I love this so much? I don't know to be honest...there's just something about pouring froth over your fresh cup. It's pretty, too!
These simple things make something so ordinary, like coffee, just a little more fun and something to look forward to each day!
I found mine on Amazon for a bout $9. That exact one is no longer available but here's are few that are almost identical!
ZULAY $13
ELEMENTI $11
BOSENKITCHEN $12
Add a little extra boujee-ness to your bubble baths or pool party without worrying about broken glass with these stemless plastic champagne flutes! Price starts at $11.99.
Look for new wine glasses? We had these super flirty + vibrant goblets at our wedding and I'm obsessed with them.
If you prefer to play it on the safe side but still want a unique / fun spin on the average wine glass check out these ones !
Looking to grow and expand this summer? Here are some top-notch reads for the "never settle" teacher.
Your mental health is so important. It's #1 for me. One of the easiest investments you can make in yourself is a good book that challenges you, teaches you, calls you out, and helps you GROW.
So, pour your frothy coffee, pull out a good book and start your day off in a fabulous mindset everyday this summer!
Here are some of my favorites:
Breaking the Habit Of Being Yourself
Now, it's your turn! I challenge you to try one new way to saturate your summer with high vibes, love, and light-hearted FUN. If you enjoyed this article, share it with your friends and coworkers!
For more good times inspo follow me on Insta @spencercotter! I may be doing a giveaway with some of the items you saw here soon 😉
xoxo,