I took my first teaching job in Arizona after graduating from Western Michigan University in 2012. I taught 5th grade, 6th grade, and 2nd grade in the classroom before transitioning into an instructional coach role in 2015.
Fast forward to today, I am an entrepreneur & certified integrative health coach helping teachers rewrite the false narrative that tells them they must be selfless in order to be a good teacher. The truth is, we are humans who need support just like everybody else. It's also true that we have more power than we know.
Teaching can easily consume us. It's a constant whirlwind of demands, changes, and massive scrutiny and without healthy boundaries and self-empowerment, we can easily hand over control to the profession. I know this firsthand, as I was burned out by year three. The journey I went on to heal my burnout changed everything for me as a teacher and more importantly, changed the entire course of my life.
This is the spark that ignited my passion for helping teachers empower themselves in every moment despite the challenges, so that they set new standards and can live their best life on their own terms.

I love being outside, hangin with my husband and our dogs, palm trees, frothy coffee, being an aunt, anything in the sun, a cozy rainy day, and always down for a dance party or a deep heart-to-heart.
Although I love to travel often and dream of one day living on an island, I believe deeply in creating a life you don't need an escape from. Empowering others to get unstuck and live their dreams lights me up. Need someone to talk you out of your head and into something life-changing? Call ya girl!
BS Elementary Education - Western Michigan University
MS Educational Leadership - Northern Arizona University
Integrative Health Coach - Institute for Integrative Nutrition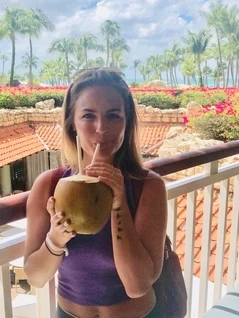 JOIN MY TEACHER TRIBE
Sign up below to be the first to receive my freebies, mentorship info, teacher empowerment and more!